DSP-100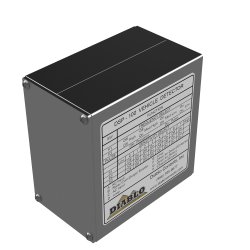 Click Image to Enlarge
Overview
---
The DSP-100 vehicle detector has been specifically designed to handle most traffic applications and is very tolerant of noise and cross-talk conditions. Working on virtually any size loop, the DSP-100 tunes itself automatically and provides constant tracking to deal with environmental changes.  The DSP-100's inherent noise filtering algorithms allow it to work reliably in almost any electrical situation.
The DSP-100 is available with a relay or solid-state output.  The "RT" and "ST" models have front-panel switches to select both extension and delay timing.  The operation of the timing functions can be modified by using the Delay Inhibit (also known as Phase Green) input.
Ordering Information
---
DSP-100 Detector
DSP-100T Detector
3D Models
---
SAT or STEP Models available upon request
Specifications
---
Loop Inductance: 20 µH to 1500 µH (including lead-in)
Operating Temperature: -35°F to 165°F (-37°C to 74°C)
Operating Voltage: 90 to 140 VAC
Enclosure:  Extruded  Aluminum
Dimensions:
3.500″(H) x 2.130″ (W) x 4.231″ (D)
88.90mm (H) x 54.10mm (W) x 107.47mm (D)
Output Ratings:
Solid-State Open Collector, 30 mA max, 30 VDC max
Relay 3A, 150 VDC or 300 VAC
Connector: Standard 10-pin MS. See Cut Sheet for Pin assignments.